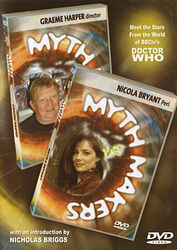 Note: DVD re-release of two interviews that were originally released separately on VHS: Myth Makers: Nicola Bryant and Myth Makers: Graeme Harper. The Nicola Bryant interview was later re-released as part of The Doctors: The Colin Baker Years.
Cover blurb:
DOUBLE THE VALUE!
NICOLA BRYANT — Peri
"The phone rang and they said, 'Can we have your comments on the death of DOCTOR WHO?'."
Undoubtedly, NICOLA BRYANT's portrayal of PERPUGILLIAM BROWN has become one of the most popular assistants in the history of DOCTOR WHO.
When we first talked to NICOLA in 1985, DOCTOR WHO had been cancelled (for the first time) and its future was uncertain. Eleven years later in 1996, we met again to discuss her last season in the programme and life after DOCTOR WHO.
Both interviews are combined in this MYTH MAKERS, giving us a fascinating insight into NICOLA's evolving life and career.
GRAEME HARPER — Director
"CAVES OF ANDROZANI creaks to me, it's quite slow... but at the time people felt it was really kind of zappy, fast and very, very exciting."
GRAEME HARPER worked on three Jon Pertwee DOCTOR WHO adventures, COLONY IN SPACE, PLANET OF THE DALEKS and PLANET OF THE SPIDERS, plus two Tom Baker adventures THE SEEDS OF DOOM and WARRIORS' GATE.
He then went on to direct THE CAVES OF ANDROZANI and REVELATION OF THE DALEKS, which won instant acclaim from viewers and fans alike.
In a lively discussion GRAEME talks about his career at the BBC, his hopes for the future, and reveals all about the aborted 30th anniversary special THE DARK DIMENSION.
SPECIAL FEATURES
Introduction by NICHOLAS BRIGGS and KEITH BARNFATHER.
Biography of both featured artists.