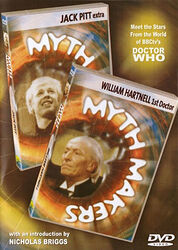 Note: DVD re-release of two interviews that were originally released separately on VHS: Myth Makers: William Hartnell and Myth Makers: Jack Pitt. Both parts were later re-released separately: the Hartnell tribute as part of The Doctors: The Hartnell Years, and the Jack Pitt interview as part of The Doctors: Monsters!
Cover blurb:
DOUBLE THE VALUE!
WILLIAM HARTNELL — 1st Doctor
"He believed in The Doctor. He was The Doctor... and he made the character one that people loved." VERITY LAMBERT
As the very first Doctor, WILLIAM HARTNELL created the character that made DOCTOR WHO a success. No other actor made such a lasting contribution to the programme or influenced it so greatly.
With contributions from WILLIAM RUSSELL, CAROLE ANN FORD, MAUREEN O'BRIEN, PETER PURVES, VERITY LAMBERT, MICHAEL CRAZE, ANNEKE WILLS, DONALD TOSH, CHRISTOPHER BARRY and JACK PITT — who was an extra in DOCTOR WHO and shared WILLIAM's flat in London. Also featured is JESSICA CARNEY, who has written a biography of her grandfather's life titled WHO'S THERE?
This is not just a MYTH MAKERS tribute... it's almost a chance to meet the man himself.
JACK PITT — Extra
"It had four castors, a shaky piece of wood, four pieces of metal, this fibre glass top and rubber bits hanging down the side!"
Who you might ask is JACK PITT?
He was actually one of the extras who inhabited the legion of monsters seen in DOCTOR WHO during the WILLIAM HARTNELL era of DOCTOR WHO [sic]. His memories of the early days of television and (more importantly) squeezing into Venom Grubs and Mechanoids are both evocative and humorous.
But what JACK really brings to MYTH MAKERS is a personal insight into WILLIAM HARTNELL's life. For eighteen months JACK shared digs with him and this was a pivotal point in both WILLIAM HARTNELL's career and in DOCTOR WHO's history.
We reminisce with JACK about DOCTOR WHO in the 1960's and uncovers some surprising facts...
SPECIAL FEATURES
Introduction by NICHOLAS BRIGGS and KEITH BARNFATHER.
Biography of both featured artists.