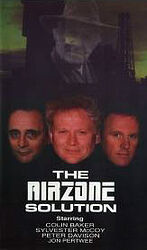 Edition:
UK (original VHS)
Released:
January 1993

Publisher:
BBV
Format:
1 x VHS PAL
Owned:
Buy:
Cover blurb:
An environmental catastrophe looms. Toxic Air Alerts are ever more frequent and disturbing changes in the climate seem irreversible. The government's latest solution has been to hire the services of the Airzone Corporation. But why is the situation not improving?
Cuddly TV weatherman Arnold Davies (Colin Baker) does not concern himself with such weighty issues. However, unbeknown to him, an ancient power is about to turn his cosy life upside-down and pitch him into a struggle to preserve the Earth itself.
Bewildered and reluctantly teamed with environmental activist Anthony Stanwick (Sylvester McCoy) and infamous TV reporter Al Dunbar (Peter Davison), Arnie must strive against the odds to expose a terrifying conspiracy. While, never too far away, Dunbar's mysterious mentor, Oliver Trethewey (Jon Pertwee), keeps a watchful eye.
Ghastly experiments, hidden agendas and questionable loyalties all come into play before Arnie can discover the truth about the Air Zone Solution.
This fourth video directed by Bill Baggs is a departure from the 'Stranger' series of stories. This time, Colin Baker and Nicola Bryant are joined by Sylvester McCoy and Peter Davison in a dark, disturbing drama which blends the strengths of a thriller, a fantasy and a cautionary tale.