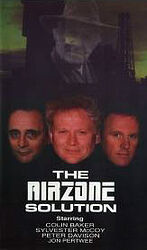 | | | |
| --- | --- | --- |
| | | |
| | Reviews for The AirZone Solution | |
| | | |
There is 1 review so far. To add a review of your own for this item, visit the voting page.
| | | |
| --- | --- | --- |
| | | |
| | A Terrific Low Budget Thriller | |
| | | |
In 1993, BBV gathered four of the living actors who had played the title character on the BBC's classic science fiction series Doctor Who together for a special film. But instead of getting Jon Pertwee, Peter Davison, Colin Baker, and Sylvester McCoy to reprise their respective Doctors BBV produced something completely different. Not a Doctor Who story, but a low budget environmental thriller that gave each actor a chance to show something different.

Colin Baker is TV weatherman Arnold "Archie" Davies. In the role, Baker shows off an almost perfect blending of comedic and dramatic abilities as he goes from lowly weatherman to environmental crusader. Baker proves once and for all that he is more then just the colorful jester version of the Doctor. He is a serious actor with some serious ability. Baker isn't the only one to step out form his shadow though. McCoy plays the tireless activist/reluctant ally to Davies and shows off his ability to convince anyone of strange things being real. Davison, who plays reporter Al Dunbar whose ghostly appearances send Davies on his quest, shows off a more serious and frustrated side of his acting abilities. Last, but not least, is Jon Pertwee who pops in every so often to give commentary and words of wisdom as Dunbar's mysterious mentor. Each proves to be more then just the Doctor of their respective TV era's.

The supporting cast is just as good. Nicola Bryant and Michael Wisher (who had also appeared on Doctor Who) step out of their shadows from the series to bring to life two curious characters who push the story along. The former Doctors are further supported by the venomous performances of Bernadette Gepheart and the soon to be discovered Alan Cumming. Rounding out the cast is Nicholas Briggs (who now does voices for the revived Doctor Who series) as Sam Flint, the news editor with divided loyalties. The cast is certainly a mix but they strength to the production.

Considering the low budget nature and short length (around an hour) of the Airzone Solution it is still quite effective. From the opening shots of Dunbar's documentary to the climatic scene at the trade convention, writer Nicholas Briggs and director Bill Baggs keep up the tension and audience interest. If there is a big fault in the film, it's the low budget. While set in the near-future there's enough to date the film to the early 1990's, mostly it is the technology, such as the old computers and floppy disks that look ancient just fifteen years after the film was made. A story like this requires depth, certainly more then the films; low budget could give.

The special features also make this worth your money. There's an interview with Peter Davison who talks about his work on this production and the challenges of doing a low budget film from an actors point of view. There are some hilarious outtakes which shows that even on low budget things can go wrong. There's also some behind the scenes footage showcasing the making of the film along with interviews with fans, and two trailers for the film. For a low budget film, these are some terrific special features for a DVD release.

Yet despite the low budget, the film still works from the script and direction to the actors, this film proves that low budgets can't weigh down a good story under good circumstances. While Doctor who fans might be disappointed in not seeing their favorite Doctor's in action, they can enjoy something different. They can enjoy a taut, low budget thriller that beats most Hollywood movies.