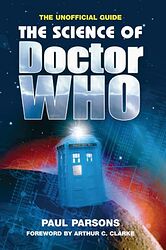 Edition:
UK (1st hardback)
Released:
March 2006

Publisher:
Icon Books
ISBN:
1-84046-737-1
Format:
hardback
Owned:
Buy:
Cover blurb:
'Parsons deftly weaves a fascinating mixture of known fact, possible future development, and scant possibilities from the Who universe into an investigation that will appeal to Who fans and general readers alike. There should be a copy in the glove compartment of every Tardis.'
Colin Baker, the Sixth Doctor
'A voyage to the outer limits of Who universe science. Fans of the show will be amazed how much real-world science lies behind the storylines.'
Stephen Baxter, author of Transcendent
'Who fans old and new will delight in this treasure trove of ideas presented by a writer who is clearly a fan as well as being a scientist.'
John Gribbin, author of In Search of Schrödinger's Cat and Science: A History
'Paul Parsons is an amazing new talent. His achievement in using the science fiction of Doctor Who to illuminate science fact is awesome.'
Heather Couper, astronomer, writer and broadcaster
'Entertaining, erudite and exhilarating. Captures the spirit and appeal of the perennial TV series.'
Duncan Steel, space researcher, author and broadcaster
Doctor Who began in 1963. His journeys have shown us alien worlds, strange lifeforms, futuristic technology and mindbending cosmic phenomena.
The breadth and imagination of the Doctor's adventures have made the show one of science fiction's truly monumental success stories. BBC Focus Editor Paul Parsons explains the scientific reality behind the fiction.
Discover:
Why time travel isn't ruled out by the laws of physics
The real K-9 — the robot assistant for space travellers built by NASA
How genetic engineering is being used to breed Dalek-like designer lifeforms
Why before long we could all be regenerating like a Time Lord.
The medical truth about the Doctor's two hearts, and the real creature with five
With style and exuberance, The Science of Doctor Who brings the very latest scientific thinking down to Earth.
About the Author:
Paul Parsons is the editor of monthly science and technology magazine BBC Focus, and has contributed popular science articles to publications ranging from the Daily Telegraph to FHM. He holds a DPhil in cosmology and is a lifelong worshipper of Doctor Who.
Arthur C. Clarke is the visionary grandmaster of 20th and 21st century Science Fiction. In a writing career than spans seven decades he has both prophesied key, world changing technologies and written Science Fiction that has become a benchmark for the genre.