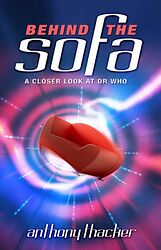 Note: Not to be confused with either of the other books called "Behind the Sofa": the 2012 book of celebrity memories, or the 2013 novel.
Cover blurb:
The new Doctor Who series has taken the country by storm with ratings comparable to the soaps, and even better than Ant and Dec's Saturday Night Takeaway!
The best Science Fiction asks questions about why we are here and where we are going, and as Christians, we have important things to say on these key questions about life:
"For once in our fragmented culture, something will be recognised and understood by a large number of children, teenagers and adults alike, and a common language can be used to talk about some important issues of life. Many in youth and children's work will want to take advantage of the opportunities this offers them." — Anthony Thacker
This is an easy-to-read book, even for those with no knowledge of Science Fiction terms and themes, with thought-provoking questions for group discussion.