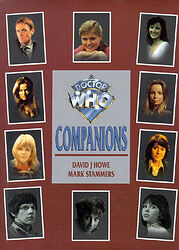 Edition:
UK (hardback)
Released:
October 1995

Publisher:
Virgin
ISBN:
1-85227-582-0
Format:
hardback
Owned:
Buy:
Cover blurb:
SUSAN IAN BARBARA VICKI STEPHEN DODO BEN POLLY JAMIE VICTORIA ZOE LIZ BRIGADIER LETHBRIDGE-STEWART SERGEANT BENTON CAPTAIN YATES JO SARAH-JANE HARRY LEELA K-9 ROMANA ADRIC NYSSA TEGAN TURLOUGH KAMELION PERI MEL ACE
Inner dustjacket flaps read as follows:
From the authors of the best-selling Doctor Who books The Sixties, The Seventies and Timeframe comes Companions, the complete guide to everyone who has been dragged along on the Doctor's adventures in time and space. All the Time Lord's travelling companions are here: three decades of miniskirts and platform boots, kilts and crinolines, leather bikinis and silver jump-suits. Companions includes interviews with the stars, the facts behind the headlines, and hundreds of photos — including glamourous shots of the actresses who played the damsels in distress and warrior women in the changing TARDIS crew.
David J Howe and Mark Stammers have spent many years researching and writing about Doctor Who for magazines, both professional and amateur, as well as contributing to books about the series and other cult television programmes.
Doctor Who books by David J Howe, Mark Stammers and Stephen James Walker:
THE SIXTIES
THE SEVENTIES
THE HANDBOOK: THE FIRST DOCTOR
THE HANDBOOK: THE FOURTH DOCTOR
THE HANDBOOK: THE SIXTH DOCTOR
By David J Howe and Stephen James Walker:
THE HANDBOOK: THE FIFTH DOCTOR (To be published in December 1995)
By David J Howe
TIMEFRAME
Edited by Mark Stammers and Stephen James Walker:
DECALOG
DECALOG 2