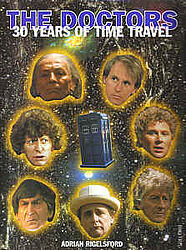 Note: Also released was a companion video, titled The Doctors: 30 Years of Time Travel and Beyond. Despite promising a "complete history" of the programme, the book completely omits Season 18 (Tom Baker's final season).
Cover blurb:

Complete history of TV's Time Lord
Unique interview material
Fascinating colour photos of all seven Doctors
Inside cover blurb:
From the broadcast of the very first episode on November 23 1963, Doctor Who has grown to become a national institution and the character has survived many turbulent years of TV schedule wars. The Doctors — 30 Years of Time Travel examines the eccentric Time Lord in each of his incarnations through interviews with the actors and the film crews who worked on the show, using their reminiscences to tell the story of each of the Doctors. Synopses of all of the Doctors' storylines are included along with details of the transmission dates and episode numbers.
The text is complemented by a remarkable collection of rare photographs, including colour pictures of the original Doctor, William Hartnell, and candid behind-the-scenes shots, many of which have never before been seen.