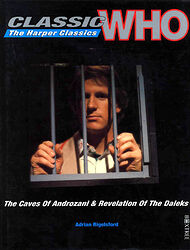 Cover blurb:
Of all the Doctor Who stories ever broadcast, two of the most critically acclaimed remain The Caves of Androzani, featuring Peter Davison as the Doctor, and Revelation of the Daleks, featuring Colin Baker. Widely hailed by fans of the series as classics, the Director of both of these stories, Graeme Harper, reveals here the behind-the-scenes details of the making of two extraordinary pieces of science fiction.
Adrian Rigelsford has worked closely with Graeme Harper, drawing together a fascinating account of his work on the programme. With contributions from both the cast and the crew, a unique chronicle has been formed of what went on — on both sides of the camera.
With one-hundred-and-fifty previously unpublished photographs and rare behind-the-scenes material, CLASSIC WHO — THE HARPER CLASSICS also offers Graeme Harper's memories of working on earlier stories that featured Jon Pertwee and Tom Baker's Doctors, and for the first time provides a very personal account of his involvement in the lost 30th Anniversary story, The Dark Dimension.