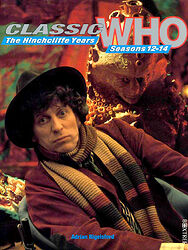 Cover blurb:
No back cover blurb. Below is the text from inside the front & back cover flaps:
When Tom Baker first took over as Doctor Who in December 1974, the programme entered perhaps its most critically acclaimed period. From The Ark In Space to The Talons Of Weng-Chiang, Who fans witnessed some of the timelord's most talked about adventures. These classic episodes fell under the supervision of Philip Hinchcliffe.
CLASSIC WHO — THE HINCHCLIFFE YEARS looks in detail at these golden days. Adrian Rigelsford has worked closely with Philip Hinchcliffe himself to bring us for the first time fascinating behind-the-scenes details of the sixteen stories in question.
Drawing also on the memories of numerous directors and actors from the period, and lavishly illustrating their accounts with well over 150 beautiful photographs and illustrations, many of them never-before-seen, Adrian Rigelsford brings us the most in-depth investigation yet written of this period that many see as one of the creative high-points of Doctor Who.
Foreword by Philip Hinchcliffe
Rare and exclusive behind the scenes material
150 stunning rare photographs
Adrian Rigelsford was born and lives in Cambridgeshire. In 1990 he worked on the film Galahad of Everest and the book The Turquoise Mountain with Brian Blessed. He also writes for The Radio Times, Film Review, Fantasy Zone, Movies and of course, Doctor Who Monthly. In 1993 he scripted the aborted Doctor Who 30th Anniversary film, The Dark Dimension. As well as his other Doctor Who books, Cybermen and The Monsters, Adrian was the author of the definitive guide to the history of Doctor Who, Boxtree's The Doctors — 30 Years of Time Travel.