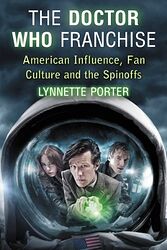 Cover blurb:
Doctor Who, nearing its 50th anniversary, has become a part of British popular culture, and the Doctor a British icon. Nevertheless, thanks to BBC America and BBC Worldwide's marketing strategy, as well as to the Doctor's and his companions' recent in-person visits to the U.S., the venerable series is becoming more susceptible to an "American influence," including the possibility of becoming "Americanized." Doctor Who and recent spinoffs Torchwood (2006) and The Sarah Jane Adventures (2007) offer American audiences very different insights into the Whoniverse and have met with varying degrees of success.
This work examines Doctor Who, Torchwood and The Sarah Jane Adventures, with special attention given to the ways British and American television production and fandoms are influencing each other. Although the past few years have been an exciting time in the Whoniverse, the Doctor — and the franchise — are poised for yet another regeneration.
LYNNETTE PORTER teaches in the Humanities and Social Sciences department of Embry-Riddle Aeronautical University in Daytona Beach, Florida. She has written several books about television and film.