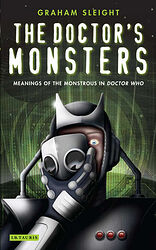 Cover blurb:
Doctor Who has been on global television screens for more than 45 years, and many of its most memorable protagonists have been its monsters: the Daleks, Cybermen, Slitheen, the Sontarans, Ood, Wiirrn, and others. This book takes a new look at these and many other creatures, and asks what inspired them and what lies behind them. If the Daleks are based on ideas of genetic purity, and the Cybermen on fears of transplant surgery, what about the Autons, the Zarbi, or the Weeping Angels?
Science fiction critic Graham Sleight examines stories from the whole of Doctor Who's history to give this unique perspective on the series. Why are we so scared of monsters? Why do they look and act the way they do? How do they reflect the time and place that the series is broadcast in? Along the way, The Doctor's Monsters provides a history — from an unusual angle — of how this most enduring of TV science fiction series has created and recreated itself. The book also contains a comprehensive glossary of the creatures seen in Doctor Who. Entertainingly and provocatively written and introduced by Paul Cornell, it is a must for any fan of the series.
British science fiction writer, editor and critic Graham Sleight is editor of Foundation: The International Review of Science Fiction.
'I think his analysis makes old stories exciting again, finding new interest even in such oddities as the Borad. The Doctor's Monsters makes a splendid contribution to academia, pop culture and fan pub debate. I heartily recommend it.' — Paul Cornell