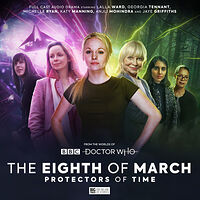 Description: Following the 2019 release The Eighth of March, this is a second box set of audio dramas starring female Doctor Who characters in 3 stories written by female authors, to mark International Women's Day on 8th March. This time the characters include Jenny, Jo Grant, Romana, Lady Christina and The Sarah Jane Adventures' Rani Chandra.
Cover blurb:
Scattered through space and time, many women have crossed paths with the Doctor. Some were fellow TARDIS travellers, some were allies defending the Earth, and one was the Doctor's daughter...
Crossing the bounds of E-Space, from a mysterious space-station to a London bus, and from the Amazon to the Moon, this 8th of March, three very different adventures unfold.

STOLEN FUTURES BY LIZBETH MYLES
PRISM BY ABIGAIL BURDESS
THE TURN OF THE TIDES BY NINA MILLNS