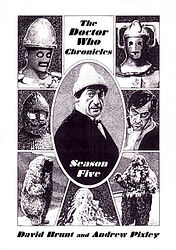 Cover blurb:
"Everytime we go somewhere something awful happens — Cybermen, Daleks, Yeti — all sorts of horrible things. Why can't we ever go anywhere pleasant, where there's no fighting, no wars — just peace and happiness."
"The Daleks are at last destroyed — or are they? They are such fiendish creations that anything is possible. Victoria is settling down well with Jamie and myself. The horror of her captivity and the tragic end of her father has mot embittered her — she is learning to smile again — I think she has a very pretty smile. Jamie is too shy to admit it. We must look after her well. I shall have to take great care of my two young companions — Jamie is very brave, but he is apt to be impetuous... as for Victoria she is as yet unaware of the adventures that overtake me in my travels through Space and Time..."
The Doctor Who Chronicles - Season Five
An episode-by-episode synopsis guide to the fifth season of "Doctor Who", from 'The Tomb of the Cybermen' to 'The Wheel in Space', detailing script deletions and amendments, original storyline ideas and notes on the finished episodes.
Also including a section covering the stories originally planned for inclusion in the season which, for one reason or another, were abandoned before production.