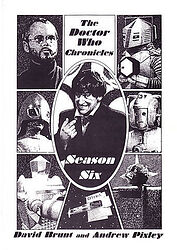 Cover blurb:
"You and I know, time is relative, isn't it?"
In the two-and-a-half years since Dr. Who, by using one of his more impressive secret formulas, managed to make himself a couple of thousand years younger, he has travelled billions of miles through space and almost as many years through time.
The Cybermen, the Quarks, the Krotons, the Zarbies, [sic] the Ice Warriors, the Seaweed Monsters, the hairy Yeti, and, of course, the dreaded near-indestructible Daleks. They've sent chills down millions of spines in the last seven years — but now they're all disappearing back to the far-distant planets whence they came.
For Dr. Who, in its present form, is ending.
The Doctor Who Chronicles - Season Six
An episode-by-episode synopsis guide to the sixthseason of "Doctor Who", from 'The Dominators' to 'The War Games', detailing script deletions and amendments, original storyline ideas and notes on the finished episodes.
Also including a section covering the stories originally planned for inclusion in the season but, for one reason or another, were abandoned before production.