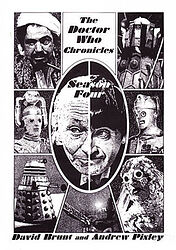 Cover blurb:
"Life depends on change... and renewal."
The wandering Doctor has two new fellow travellers with whom to share the new adventures. Events move too fast for the TARDIS travellers to puzzle long over the apparent change in Dr. Who for they face the greatest and most indestructible enemy — the Daleks, and find themselves joined by a young Highlander fleeing from the redcoats. Shortly afterwards, the new Doctor soon discovers that he is again up against the unfeeling Cybermen — and the TARDIS is stolen by the Daleks!
The Doctor Who Chronicles - Season Four
An episode-by-episode synopsis guide to the fourth season of "Doctor Who", from 'The Smugglers' to 'The Evil of the Daleks', detailing script deletions and amendments, original storyline ideas and notes on the finished episodes.
Also including a section covering the stories originally planned for inclusion in the season which, for one reason or another, were abandoned before production.