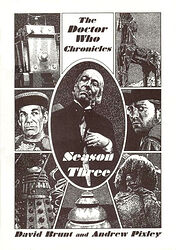 Cover blurb:
"I'm a citizen of the universe, and a gentleman to boot!"
The wonderful space-time vessel Tardis and her remarkable commander Dr. Who resume their galactic voyage.
Long ago, when the stories of their adventures first started, the Doctor had three companions, but now he is reduced to two: Steven Taylor, the space traveller snatched from the sinister grasp of the Mechonoids, [sic] and Vicki, the one-time castaway from a distant planet.
Where their erratic craft will take the trip in the new series is only partially known. There is, of course, a better-than-even chance that they will come up once more against their traditional enemies the Daleks, and it is certain that they will be touching Earth again.
The Doctor Who Chronicles - Season Three
An episode-by-episode synopsis guide to the third season of "Doctor Who", from 'Galaxy 4' to 'The War Machines', detailing script deletions and amendments, original storyline ideas and notes on the finished episodes.
Also including a section covering the stories originally planned for inclusion in the season which, for one reason or another, were abandoned before production.