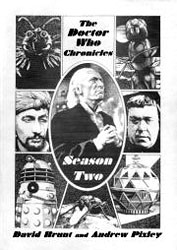 Cover blurb:
"One day I shall come back. Yes, I shall come back."
Far, fabulous and wonderfully fantastic have been the adventures of Dr. Who and his companions since that night when Ian and Barbara first stumbled upon the secret of Totter's Lane.
In the new series he is off on his travels once more. But Dr. Who knows one thing: he has not seen the last of the Daleks. Certainly he has destroyed them; but TARDIS can travel anywhere in time, so he is quite likely to come up with them again several centuries before their extinction, and the battle may be joined again. For the rest, all time is open to the questing TARDIS.
The Doctor Who Chronicles - Season Two
An episode-by-episode synopsis guide to the second season of "Doctor Who", from 'Planet of Giants' to 'Checkmate', detailing script deletions and amendments, original storyline ideas and notes on the finished episodes.
Also including a section covering the stories originally planned for inclusion in the season but, for one reason or another, were abandoned before production.