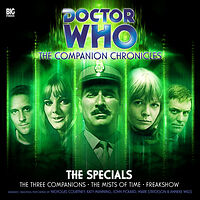 Note: Box set containing an omnibus re-edit of the mini-series The Three Companions, together with the stories The Mists of Time and Freakshow — the latter two were previously only available as downloads to readers of Doctor Who Magazine, while The Three Companions was previously released in 2009-2010 as a monthly serial of twelve 10-minute episodes, with each episode being included on one of the regular monthly New Audio Adventures CDs, namely the 12 releases from The Magic Mousetrap to Survival of the Fittest.

Cover blurb:
The Three Companions by Marc Platt
Polly Wright has tracked down an old friend of the Doctor's... Alistair Gordon Lethbridge-Stewart, former Brigadier at UNIT. As the trade stories of their time travelling in the TARDIS, it soon becomes clear that their pasts are intertwined, and linked to a current crisis on the planet Earth. And there's a third companion, watching them from a distance. A certain Thomas Brewster... An epic story featuring the Doctor's former companions Polly, Brigadier Lethbridge-Stewart and Thomas Brewster in a fight to save the Earth, The Three Companions was previously released in serialized form and is available to hear in a new compilation edit for the first time.
The Mists of Time by Jonathan Morris
Many years ago, when she was travelling with the Doctor, Jo Grant visited Zayin Eight. Now, suddenly and inexplicably, she is back on that ravaged planet, and reunited with a human called Newton Calder. What happened to the missing members of Calder's team? What is the secret of the vast ruined city? The answers will lie in the dark and distant past of the Time Lords themselves... The Mists of Time is available on CD for the first time.
Freakshow by Mark Morris
The TARDIS arrives in Arizona 1905, where travelling showman Thaddeus P Winklemeyer is offering the residents of Buzzard Creek the elixir of life. Winklemeyer also owns a unique carnival, which is full of caged alien creatures. And in Turlough he has found a brand new exhibit... Freakshow is available on CD for the first time.
Also includes previously unreleased bonus material.