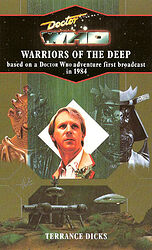 Edition:
UK (2nd paperback)
Released:
August 1992

Publisher:
Target
ISBN:
0-426-19561-2
Format:
paperback
Owned:
Buy:
Note: Same ISBN as previous paperback edition.
Cover blurb:
'Let's face it, Tegan,' said Turlough brutally. 'The Doctor's drowned.' And he dragged her away.
When the TARDIS materializes on Earth in 2084, the Doctor meets an old enemy — the Sea Devils. Once the masters of this planet, they are now forced to live in the murky depths of the sea. But their intention is to reclaim their once-mighty position of dominance. And their associates in this deadly plan are none other than the sinister Silurians, old and evil enemies of the Doctor.
This is a novelization by Terrance Dicks of an original screenplay written by Johnny Byrne and featuring Peter Davison as the Doctor. Broadcast in 1984, the story marked the first appearance of the Silurians in ten years.