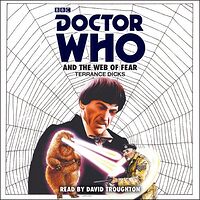 Description: Audio reading of Terrance Dicks' 1976 novelisation. Not to be confused with the TV audio soundtrack of the same story, released in 2000.
Cover blurb:
David Troughton reads this gripping classic novelisation of a Second Doctor TV adventure featuring the Yeti and the Great Intelligence
"Attention to detail is a hallmark of this always excellent range"
Doctor Who Magazine
For 40 years Professor Travers' Yeti has been quiet, a collector's item in a museum. Then, without warning, it awakes and savagely murders. Patches of mist begin to appear in Central London, those who linger in it found dead, their faces smothered in cobwebs.
When the Doctor, Jamie and Victoria arrive in the London Underground, they find that the web is remorselessly spreading. What's more, hordes of Yeti are roaming the misty streets and cobwebbed tunnels, killing everyone in their path. London has been gripped tight in a web of fear.
The Doctor and his friends unite with the army, led by one Colonel Lethbridge-Stewart, in defence of planet Earth. But an old enemy is lurking in the shadows...
David Troughton, who has played several roles in the BBC TV series, reads this complete and unabridged novelisation, first published by Target Books in 1976.