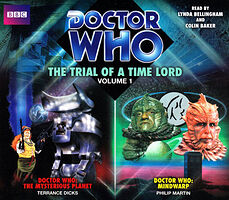 Description: Audio reading of the novelisations of The Mysterious Planet and Mindwarp. Followed by Volume 2 which contains Terror of the Vervoids and The Ultimate Foe.
Cover blurb:
Lynda Bellingham and Colin Baker read these thrilling novelisations of the first two adventures in 'The Trial of a Time Lord', featuring the Sixth Doctor
Doctor Who and the Mysterious Planet: the TARDIS has been taken out of time and the Doctor has been brought before a court of his fellow Time Lords. There the sinister Valeyard accuses the Doctor of breaking Gallifrey's most important law and interfering in the affairs of other planets. If the Valeyard can prove him guilty, the Doctor most sacrifice his remaining regenerations...
Doctor Who: Mindwarp: The sinister prosecutor, the Valeyard, presents the High Council of Time Lords with the second piece of evidence against the Doctor: a dramatic adventure on the planet Thoros-Beta which led to the renegade Time Lord's summons to the Court of Enquiry. But as the Doctor watches the scenes on the Matrix he is puzzled by what he sees — his behaviour is not as he remembers. Only one thing is certain: on the evidence of the Matrix the Doctor is surely guilty as charged...