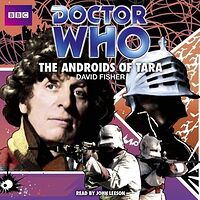 Description: Novelisation reading of the 1978 Doctor Who TV story of the same name — however, similar to The Stones of Blood in 2011, this is not an audio reading of Terrance Dicks's 1980 novelisation, but a brand new adaptation written exclusively for this audio release. This new version was eventually released as a book in 2022.
Cover blurb:
John Leeson reads this thrilling brand new novelisation of a classic Doctor Who serial
The Count embraced the android enthusiastically. 'You see before you,' he told Romana, 'the perfect killing machine. She's as beautiful as you are, my dear, and as deadly as the plague. If only she were a real woman, I'd marry her tomorrow.'
In search of a segment of the Key of Time, the Doctor, Romana and K9 arrive on the planet Tara, whose population has long mastered the art of android engineering. Romana is apprehended by the ambitious Count Grendel, who seeks to overthrow the king in waiting, and the Doctor is coerced into helping those loyal to the crown. With Reynart locked away in Grendel's dungeons, the Doctor must perfect an android that can be crowned in his place. Yet Reynart is not the only one of Grendel's prisoners to have a double: the captive Princess Strella is Romana's doppelganger. A deadly game of cat and mouse ensues as Grendel seeks to destroy the Doctor in his race to the Taran throne...
With original sound design, this brand new novelisation is written specially for audio by David Fisher. It is read by John Leeson, who was the original Voice of K9 in the BBC TV series.