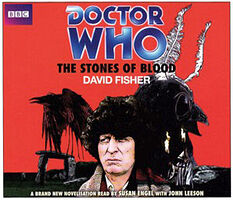 Description: Novelisation reading of the 1978 Doctor Who TV story of the same name — however, similar to The Androids of Tara in 2012, this is not an audio reading of Terrance Dicks's 1980 novelisation, but a brand new adaptation by David Fisher written exclusively for this audio release. This new version was eventually released as a book in 2022.
Cover blurb:
Susan Engel reads this brand new novelisation of a classic Doctor Who serial featuring the fourth Doctor, Romana and K9.
The stone circle of Bodcombe Tor, in the South West of England, stands in tribute to a mysterious goddess. Long ago, six huge monoliths were arranged in a half circle, with an altar stone in the centre. Then one day, mysteriously, the six stones became nine. Stranger still, when blood was poured over them it was immediately absorbed...
When the Doctor, Romana and K9 arrive on Bodcombe Moor, they meet the elderly Professor Rumford and her friend Vivien Fay. From them they learn the chequered history of the stones, and of the inhabitants of the nearby manor house — currently one Leonard de Vries, leader of a druidic sect. But all is not as it seems, and soon the Doctor and his companions are enmeshed in a deadly web of deceit. Powerful creatures rampage across the moor, and the nature of a long family line is called into question. Romana is trapped by a cunning enemy, and time is running out for the Doctor and K9...
With original sound design, this brand new novelisation is written specially for audio by David Fisher. It is read by Susan Engel, who played Vivien Fay in the 1978 BBC TV serial, with John Leeson as the voice of K9.