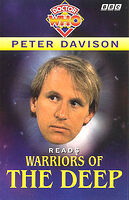 Note: This is a reading of Terrance Dicks's 1984 novelisation — not to be confused with the audio soundtrack released in 2008. Later re-released in MP3-CD format as part of the compilation Tales from the TARDIS: Volume 2.
Cover blurb:
Peter Davison reads Warriors of the Deep, novelized by Terrance Dicks.
When the TARDIS materialises on Earth in 2084, the Doctor meets some old enemies, the Sea Devils. Once the masters of this planet, they are now forced to live in the murky depths of the sea. But their intention is to reclaim their once-mighty position of dominance, and their associates in this deadly plan are none other than the sinister Silurians.
Abridged. Running time 90 minutes.