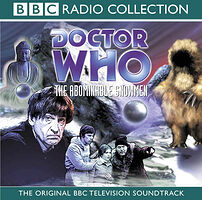 Edition:
UK (CD)
Released:
July 2001

Publisher:
BBC Audio
ISBN:
0-563-47856-X
Format:
2 x CD
Owned:
Buy:
Cover blurb:
PATRICK TROUGHTON HAS HIS FIRST ENCOUNTER WITH THE YETI IN THIS EXCLUSIVE RECORDING OF A CLASSIC 'LOST' TELEVISION ADVENTURE, WITH LINKING NARRATION BY FRAZER HINES
'Don't pretend. They're here somewhere, on these mountains. The Yeti. The Abominable Snowmen!'
The year is 1935. The TARDIS materialises in the snowy Himalayas, and the Doctor makes a return visit to the nearby Detsen monastery. Having last been there three hundred years ago, he is astonished to find the community of monks and lamas divided by conflict. The monastery is under attack, apparently from the Yeti which are said to roam the mountainside. Furthermore, the Doctor discovers that his friend the High Lama is still alive, his ancient body under the influence of an apparently unearthly force...
Meanwhile, explorer Edward Travers is determined to track down and capture one of the Yeti. When his colleague is murdered, he refuses to blame the creatures and instead accuses the Doctor. The time travellers discover that the Yeti are all too prominent in the area — in fact they are set to kill anyone who threatens the plans of the disembodied Intelligence which they serve. Whilst Jamie is keen to lend his weight to the problem, Victoria's curiosity seems bound to lead her into danger. The Doctor and his companions soon realize that not only the monastery but the safety of the whole world is in peril.