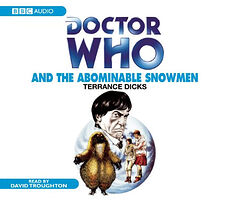 Note: Audio reading of Terrance Dicks's 1974 novelisation — not to be confused with the audio soundtrack released in 2001.
Cover blurb:
A gripping novelisation of a classic Doctor Who adventure, read by David Troughton
A single blow from the giant, hairy paw smashes the explorer to the ground. Terrified, he flees from the monster's glowing eyes and savage fangs...
Why are the peaceful Yeti now spreading death and destruction? And what is the secret behind the glowing cave on the mountain?
When Doctor Who discovers that a long-dead friend is still alive, he knows why his visit to the lonely Himalayan monastery has led to a struggle to save the Earth!
David Troughton reads Terrance Dicks' complete and unabridged novelisation, first published by Target Books in 1974.
'BBC Audiobooks has chosen well with its books and has taken the right approach with its readers... they benefit from new music and sound effects' Doctor Who Magazine