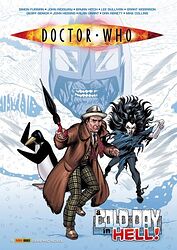 Note: Collection of Seventh Doctor comic strips from Doctor Who Magazine. Followed by Nemesis of the Daleks.
Colourised versions of all of these comic strips were reprinted as part of IDW's Doctor Who Classics range between 2011 and 2013: the first 8 strips (from A Cold Day in Hell to Echoes of the Mogor) were included in Doctor Who Classics: Volume 7, while the remaining three (Time and Tide, Follow That TARDIS! and Invaders from Gantac!) were in Doctor Who Classics: Volume 9.
Cover blurb:
The Seventh Doctor embarks on more thrilling adventures in time and space in his first volume of collected comic strips from the pages of DOCTOR WHO MAGAZINE!
This book features eleven amazing stories: A COLD DAY IN HELL!, REDEMPTION!, THE CROSSROADS OF TIME, CLAWS OF THE KLATHI!, CULTURE SHOCK!, KEEPSAKE, PLANET OF THE DEAD, ECHOES OF THE MOGOR!, TIME AND TIDE, FOLLOW THAT TARDIS! and INVADERS FROM GANTAC!
These fantastic episodes see the Doctor meet his old foes the Ice Warriors; say a sad farewell to his companion Frobisher; bump into the robotic bounty hunter Death's Head; encounters his old foe the Meddling Monk; and even meet all of his previous six incarnations!
Featuring stunning artwork from JOHN RIDGWAY, BRYAN HITCH, LEE SULLIVAN, GEOFF SENIOR, JOHN HIGGINS and ANDY LANNING, plus scripts from SIMON FURMAN, GRANT MORRISON, MIKE COLLINS, DAN ABNETT and ALAN GRANT.
PLUS! An introduction from comic strip editor RICHARD STARKINGS, an overview from former DWM editor JOHN FREEMAN, and a special 7-page commentary section where the writers, artists and editors reveal the stories behind the strips!
AN ESSENTIAL COLLECTION FOR FANS OF DOCTOR WHO AND CLASSIC BRITISH COMICS!