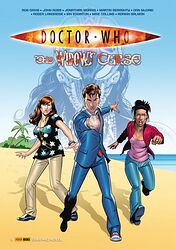 Edition:
UK (paperback)
Released:
October 2009

Publisher:
Panini
ISBN:
978-1-84653-429-4
Format:
paperback
Owned:
Buy:
Cover blurb:
COLLECTED TENTH DOCTOR COMIC STRIPS — VOLUME 2
Join the Tenth Doctor, Martha Jones and Donna Noble as they embark on a series of extraordinary adventures in space and time, in these exceptional collected comics from the pages of DOCTOR WHO MAGAZINE!
This book features nine amazing stories: THE WOMAN WHO SOLD THE WORLD, BUS STOP!, THE FIRST, SUN SCREEN, DEATH TO THE DOCTOR!, UNIVERSAL MONSTERS, THE WIDOW'S CURSE, THE IMMORTAL EMPEROR and THE TIME OF MY LIFE!
The Doctor encounters giant robots and little old ladies on the planet Loam, helps Martha survive on Mars (from the safety of a double-decker bus!), joins Shackleton's journey to the South Pole and visits a spooky village on a distant world where monsters dwell in every home...
Meanwhile, a band of disparate and desperate aliens plot the Doctor's death, Donna discovers hell on Earth on the island of Shadow Cay, and a trip to Imperial China proves far more dangerous than the TARDIS crew could ever believe...
PLUS! A bumper commentary section where the writers, artists and editors reveal the stories behind the scripts, featuring never-before published sketches, unused and deleted scenes, original story outlines and more!
AN ESSENTIAL COLLECTION FOR FANS OF DOCTOR WHO AND CLASSIC BRITISH COMICS!