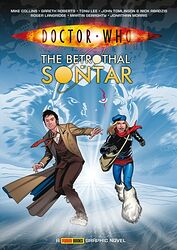 Note: First of 3 collections of 10th Doctor comic strips from Doctor Who Magazine and the Doctor Who Storybooks. Followed by The Widow's Curse and The Crimson Hand.
Cover blurb:
COLLECTED TENTH DOCTOR COMIC STRIPS — VOLUME I
The Tenth Doctor and Rose Tyler steer the TARDIS into a whole new realm of adventure and excitement in these collected comics from the pages of DOCTOR WHO MAGAZINE!
This book features eight amazing stories: THE BETROTHAL OF SONTAR, THE LODGER, F.A.Q., THE FUTURISTS, INTERSTELLAR OVERDRIVE, OPERA OF DOOM!, THE GREEN-EYED MONSTER and THE WARKEEPER'S CROWN!
Fresh from his regeneration, the Tenth Doctor needs all his wits about him as he battles the war-loving Sontarans on a remote ice planet, while Rose finds herself facing her worst fears in front of her family — and live on TV!
Also: Mickey spends a maddening week with a Time Lord in his spare room, an ordinary boy creates an extraordinary world of deadly monsters, an intergalactic rock band seems doomed to die over and over again, and the Doctor catches up with his oldest friend, Brigadier Lethbridge-Stewart, on an alien world where war is eternal!
PLUS! A special 15-page commentary section where the writers, artists and editors reveal the stories behind the strips, including TV writer GARETH ROBERTS (The Shakespeare Code, The Unicorn and the Wasp)
AN ESSENTIAL COLLECTION FOR FANS OF DOCTOR WHO AND CLASSIC BRITISH COMICS!