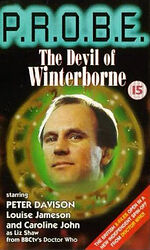 Edition:
UK (reissue VHS)
Released:
September 1996

Publisher:
Reeltime Pictures
Format:
1 x VHS PAL
Owned:
Buy:
Note: Contains both Part 1 and Part 2 on one tape.
Cover blurb:
P.R.O.B.E.
PRETERNATURAL RESEARCH BUREAU
Doctor Liz Shaw
Working with the United Nations Intelligence Taskforce (UNIT) and their mysterious scientific advisor make her the ideal choice to head PROBE.
Patricia Haggard
Liz's long-time friend and ally in Whitehall.
The Devil of Winterborne
When Liz Shaw is summoned to investigate the savage murder of a retired headmaster, she is disturbed to find evidence of satanic rites near the scene of the crime.
She soon discovers a web of deceit and corruption that extends back in time, threatening the current occupants of nearby Winterborne school.
With PROBE under threat from within and the death toll mounting, Liz finds herself under increasing pressure from all sides to produce results...
The Devil of Winterborne is at large and only Liz can stop it!