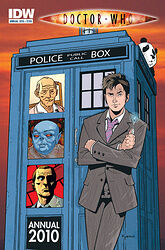 Note:
Despite the "annual" name, this is essentially a graphic novel and hence is categorised on this site accordingly.
IDW are an American publisher, hence the reason why this softback graphic novel is called the "2010" annual rather than "2011" as it would if it were published in Britain.
The ISBN is 978-1-60010-819-8, but for some reason this ISBN is not currently in Amazon's database.
The 4 stories in this annual were later republished as part of the graphic novel Final Sacrifice and the compendium volumes Doctor Who Omnibus 2, Winter's Dawn, Season's End and Doctor Who Archives: The Tenth Doctor Volume 3.
Cover blurb:
The TARDIS takes center stage in this oversized issue of Doctor Who, featuring these four tantalizing tales:
The Doctor gets a lesson in piloting his TARDIS in "Ground Control" by Jonathan L. Davis and Kelly Yates.
An "ordinary" man finds himself haunted by the TARDIS in "The Big, Blue Box" by Matthew Dow Smith.
Does the Doctor dream of electric sheep? Find out in "To Sleep, Perchance to Scream" by Al Davison.
The Doctor revisits a past companion and starts off on the final adventure of his tenth incarnation in "Old Friend" by Tony Lee and Matthew Dow Smith.