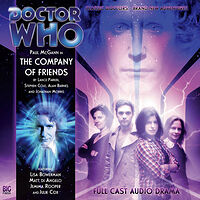 Cover blurb:
1. BENNY'S STORY by Lance Parkin
Deep in the mines of Epsilon Minima, Professor Bernice Summerfield is up to her neck in it — as usual. The Countess Venhella has hired her to recover a lost Time Lord artefact: A TARDIS key, it turns out. Guess whose?
2. FITZ'S STORY by Stephen Cole
On the planet Entusso, the Doctor and Fitz Kreiner investigate Alien Defence Incorporated — your one-stop shop for protection against extraterrestrial invasion! But which is the greatest menace: the hideous Vermin Queens or ADI itself?
3. IZZY'S STORY by Alan Barnes
TARDIS travel opens one's eyes to a universe of possibilities, reckons the Doctor. For geek girl Izzy, it's also a fantastic way to track down ultra-rare back copies of 'Aggrotron!', the most dangerous comic in history...
4. MARY'S STORY by Jonathan Morris
Switzerland, 1816: at the Villa Diodati, Lord Byron's house guests tell each other tales to curdle the blood and quicken the beatings of the heart. With a monster on the loose outside, young Mary Shelley isn't short of inspiration.