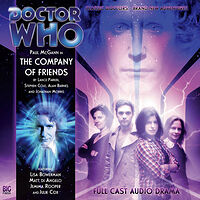 | | | |
| --- | --- | --- |
| | | |
| | Reviews for The Company of Friends | |
| | | |
There are 3 reviews so far. To add a review of your own for this item, visit the voting page.
| | | |
| --- | --- | --- |
| | | |
| | A mixed bag with a couple of stonkers | |
| | | |
I have to say I wasn't looking forward to this, but I was really surprised. Scoring individually Mary was an outstanding 10, Benny a strong 9, Izzy a good 7 but Fitz an average 6. Overall really enjoyable and have listened to Benny and Mary several times.
By:
Doug, Pocono Summit, PA, USA
Date:
Monday 19 October 2009
Rating:
9
I just had to give this one more than an 8, because it's so much fun!

Having been a fan of the BBC Books Eighth Doctor series of novels, I found this collection of four short stories to be very interesting and quite satisfying.

Benny, of course, is a popular character who was created during the Seventh Doctor's New Adventures run in the novels. Here she meets the Eighth Doctor for the first time since The Dying Days, which was the final New Adventure before BBC Books took over, and the only New Adventure to feature the Eighth Doctor. This is a great time travel story that doesn't feel rushed in its single-episode form.

Fitz is a rather different companion who traveled with the Doctor in BBC Books' EDA range. In the books, he's a sort of usually-failed womanizer who is also usually a big slacker. His episode here pulls off the characterization fairly well - well enough that I'd be interested in seeing more episodes featuring him. This episode is pretty corny, really, but it is a lot of fun, in a not taking it seriously kind of way...

Izzy is someone I wasn't familiar with, who is apparently from a Doctor Who comic strip. The character here is, again, great fun, and her story, appropriately, involves a quest for a missing final issue of her favorite comic book. You know it ends up involving a lot more than they expected...

And Mary's story features... Mary Shelley! This one left me wondering if Mary Shelley was a companion of the Doctor in some series of some kind I didn't know about, but apparently, this is a new invention, just for this audio release. This episode is really excellent, and again, not rushed at its length of only a single episode. The Doctor is having serious problems as he arrives at the dwelling where we find Mary and friends, and I'll leave the rest to your imagination... until you get a hold of this excellent release and listen for yourself. Could there be an upcoming Eighth Doctor and Mary series from Big Finish? One can only hope.

Highly recommended!
| | | |
| --- | --- | --- |
| | | |
| | Another Collection of Shorts | |
| | | |
By:
David Layton, Los Angeles, United States
Date:
Monday 9 September 2019
Rating:
7
This collection has audio adventures of Doctor 8 with companions he hasn't had audio adventures with: Benny, Izzy, Fitz. Plus, we get introduced to a new travelling companion, Mary Shelley. As with the other anthology audios, the stories are quick and mostly amusing. There is no time for depth. This collection does not really have a linking idea, unlike the ones for the other Doctors.