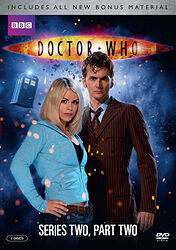 Note: Contains all episodes from The Idiot's Lantern to Doomsday. There are no DVD special features except for the making-of featurette "A New Dimension", which is exclusive to this release.
Cover blurb:
David Tennant (Broadchurch, Harry Potter and the Goblet of Fire) continues his triumphant reign as the Tenth Doctor in part two of the second series of the re-booted Doctor Who! Watch as the TARDIS is nearly pulled into a black hole and the Doctor must defend earth against the Cybermen, Daleks and other fearsome forces. With thrills, heartbreak, and terrifying monsters around every corner, Doctor Who never fails to deliver!
THE IDIOT'S LANTERN
THE IMPOSSIBLE PLANET / THE SATAN PIT
LOVE & MONSTERS
FEAR HER
ARMY OF GHOSTS / DOOMSDAY
SPECIAL FEATURE: DOCTOR WHO: A NEW DIMENSION
Newly produced look back at the making of these breathtaking episodes.