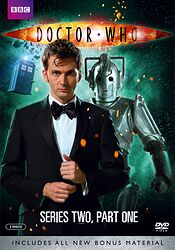 Note: Contains the episodes The Christmas Invasion through to The Age of Steel. There are no DVD special features except for the making-of featurette "A New Dimension", which is exclusive to this release.
Cover blurb:
David Tennant (Broadchurch, Harry Potter and the Goblet of Fire) kicks off his triumphant reign as the Tenth Doctor with these first seven thrilling episodes from the second series of the re-booted Doctor Who! Alongside his companion Rose (Billie Piper, Secret Diary of a Call Girl), the Doctor must help Queen Victoria battle the Empire of the Wolf and prevent an invasion of Earth by the evil Cybermen! Thrills, heartbreak, and terrifying monsters lurk behind every corner as the Doctor and Rose battle the evil forces of the universe!
THE CHRISTMAS INVASION / NEW EARTH
TOOTH AND CLAW / SCHOOL REUNION
THE GIRL IN THE FIREPLACE
RISE OF THE CYBERMEN / THE AGE OF STEEL
SPECIAL FEATURE: DOCTOR WHO: A NEW DIMENSION
Newly produced look back at the making of these breathtaking episodes.