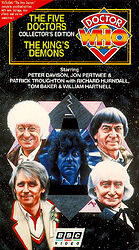 Edition:
US (VHS)
Released:
February 1997

Publisher:
BBC Video
Format:
2 x VHS NTSC
Owned:
Buy:

| | | |
| --- | --- | --- |
| | | (Not currently available) |
Cover blurb:
The Five Doctors — Collector's Edition
"I am being diminished, whittled away piece by piece. A man in the sum of his memories you know, a Time Lord doubly so."
Someone is taking the Doctor's past selves out of time and space, placing them in a vast wilderness — a battle arena with a sinister tower at its center.
As the various incarnations of the Doctor join forces, they learn they are in the Death Zone on their home world of Gallifrey, fighting Daleks, Cybermen, Yeti... and a devious Time Lord Traitor who is using the Doctor and his companions to discover the ancient secrets of Rassilon, the first and most powerful ruler of Gallifrey.
The Five Doctors was originally broadcast to celebrate the Twentieth Anniversary of Doctor Who in 1983. This new version of the story features extended scenes, previously unseen sequences, new visual effects and a stereo soundtrack. Not intended as a replacement for the original edition of the story, this is an alternative version which uses state-of-the-art technology to embellish and enlarge one of the greatest Doctor Who adventures ever...
The King's Demons
"We sing in praise of total war; against the Saracen we abhor"
It is thirteenth Century England, and King John is visiting the castle stronghold of Sir Ranulf Fitzwilliam. Ranulf's personal fortune has dwindled away, freely donated to King John to help fund the Crusade. While staying with Ranulf, the King's greed is criticized by the baron's head-strong son, Hugh. As a result, Hugh is challenged to a duel by the monarch's enigmatic French Knight-At-Arms, Sir Gilles Estram, a duel the young Englishman has little hope of surviving.
When the TARDIS materializes and disturbs the joust, the Doctor's party are proclaimed friendly demons by the King, who seems strangely interested in their "blue engine". Before long the Doctor becomes embroiled in court politics, and he realizes that there is far more to the situation than a simple battle of honor between nobles.