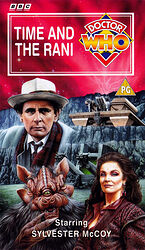 Edition:
UK (VHS)
Released:
July 1995

Publisher:
BBC Video
Format:
1 x VHS PAL
Owned:
Buy:
Cover blurb:
After an attack by the evil Rani, the TARDIS crash-lands on the desolate planet of Lakertya. On the floor of the console room, the Doctor begins his sixth regeneration...
In his post-regenerative confusion, the Doctor is separated from his young companion Mel and tricked into assisting the Rani in her megalomanic scheme to construct a giant time manipulator.
Lost on the barren surface of the planet, Mel has to avoid the Rani's ingenious traps and her monstrous, bat-like servants, the Tetraps. She joins forces with a rebel faction among the Lakertyans, desperate to end the Rani's control of their planet.
The Doctor must recover his wits in time to avoid becoming a permanent part of the Rani's insane plan to drain the genius of the greatest scientific minds in the universe...
Originally transmitted 7 September 1987 to 28 September 1987.