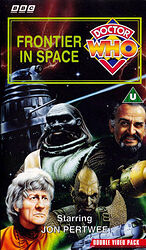 Edition:
UK (VHS)
Released:
August 1995

Publisher:
BBC Video
Format:
2 x VHS PAL
Owned:
Buy:
Cover blurb:
"The treaty between our two empires established a frontier in space. We have never violated that frontier. You have invaded our part of the galaxy many times!"
It is the twenty-sixth century. Known space is divided between the great empires of Earth and Draconia. A fragile peace exists between the humans and the lizard-like Draconians, a peace that is put in jeopardy when each race claims that its cargo vessels are being raided by the other's warships.
When the TARDIS accidentally brings the Doctor and Jo aboard Earth cargo ship C982, they find it under attack. As the ship is boarded, a strange pulsing sound fills the air. The crew believe their attackers to be Draconians, but the Doctor and Jo see only Ogrons — brutish, simian mercenaries who steal the cargo, including the TARDIS, and head off into space.
The Doctor's investigations take him to Earth, the Moon and then to Draconia itself. He discovers that the Ogrons are employed by his sworn enemy the Master, who is attempting to provoke a war between the space empires. The Doctor suspects the scale of the plan is too grand for the Master, but even he is shocked to discover the identity of the far deadlier foe waiting in the wings...
Originally transmitted 24 February - 31 March 1973