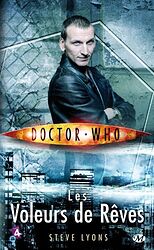 Edition:
France (paperback)
Title:
Les Voleurs de Rêves
Released:
December 2012

Publisher:
Milady
ISBN:
978-2-8112-0874-5
Format:
paperback
Owned:
Buy:

| | | |
| --- | --- | --- |
| | | (Not currently available) |

| | | |
| --- | --- | --- |
| | | (Not currently available) |
Note: After the (presumably successful) range of 11th Doctor novels translated into French earlier in 2012, this is the first 9th Doctor novel to receive the same treatment.
Cover blurb:
« Peu importe ce dont je rêve, peu importe ce que j'écris : c'est toujours un mensonge. »
Dans un futur lointain, le Docteur, Rose et le capitaine Jack arrivent au beau milieu d'un monde où la fiction est prohibée. Même mentir et rêver sont désormais des crimes punis par la loi. Mais une chaîne de télévision clandestine appelle la population à l'insurrection... Le Docteur souhaite évidemment apporter son soutien à ce soulèvement, jusqu'au moment où, confronté au personnel d'un asile psychiatrique et à un dément hanté par des monstres imaginaires, il devra bien admettre que tout rêve peut s'avérer dangereux. Mais pas autant que la vérité elle-même...
Une nouvelle aventure fascinante du Docteur, de Rose et du capitaine Jack, interprétés par Christopher Eccleston, Billie Piper et John Barrowman dans la spectaculaire série télévisée de la BBC.