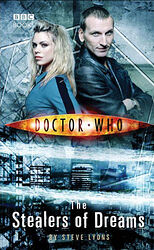 | | | |
| --- | --- | --- |
| | | |
| | Reviews for The Stealers of Dreams | |
| | | |
There are 11 reviews so far. To add a review of your own for this item, visit the voting page.
By:
rebekka, london
Date:
Friday 7 October 2005
Rating:
10
this book is Fantastic! it is so cool and captering (sorry cant spell) the story line is really good. well done anthoer (told you i couldent spell!) really good book, i read winner takes all in 2 days it that good ive read all the books aprat from 2 but i think they can to be Fantastic!
By:
the Traveller, Static TV Studio
Date:
Monday 17 April 2006
Rating:
10
A well written, entertaining story with equal focus on regulars and supporting characters.
| | | |
| --- | --- | --- |
| | | |
| | Stealers of Time more like it | |
| | | |
By:
Manny, Los Angeles, California, US
Date:
Tuesday 16 May 2006
Rating:
5
I was looking forward to reading this book from the moment that I saw it. The back cover of the book made me dive into this read from the moment I got home.

Though the story and the book do not do the same. I had to put this book down half way, it was a real disappointment to find it boring and to have to stop reading it.

It went very slow and it did not seem like a Doctor Who book. That is to say there was no point in what I read of the book that made me want to continue reading. Rather it just gave me a dizzy spell. The characters sort of wonder in who they are for a better part of the story.

If anything that did get my attention was the 'Bad Wolf' reference. That was the most amusing bit in the whole story.

Avoid this book if you can, the Doctor Who books that came before it are a better read. This one is only a read if you must. Other wise, it'll steal your time.
By:
Hatman, nobody will ever know what he did
Date:
Tuesday 20 June 2006
Rating:
8
Quite good..ish. a bit absurd. like the traveller
| | | |
| --- | --- | --- |
| | | |
| | Very Highly Reconmended Book | |
| | | |
By:
Mimi, UK
Date:
Saturday 12 August 2006
Rating:
10
I vote this to be the best book out of the 9 Doctor Who Books that ive read so far. This book captures the charactors in a true and relistic way, as well as telling a well thought out, imaginative story that grips you untill the end.
By:
Antony, reading
Date:
Tuesday 25 December 2007
Rating:
5
Sooooooooooooooo disappointing its unbelievable. Here was me, thinking that it would at least have some massive hairy thing in it, and there were no real monsters. Booooooooooorrrrrrrrrrrrriiiiinnnnnnnnnggggggg!
By:
Zoey, Windera, Austalia
Date:
Monday 7 January 2008
Rating:
1
I found that this book was absolutly crap. It jumped all over the place. I couldn't even get through 2 sentences without getting lost.
| | | |
| --- | --- | --- |
| | | |
| | Great idea, terrible application | |
| | | |
By:
Aaron, Canada
Date:
Monday 25 February 2008
Rating:
5
The idea itself for this novel I found brilliant, but there it stopped. Again we have silly subplots for Capt Jack in an attempt to give him stuff to do. I love Capt jack, but so many of these books just don't seem to know what to do with him. The book jumps from place to place with events happening that just leaves me thinking...Why?

We are several books into the series and so far none have really shined as being great. I am hoping they find their stride soon, because sitting in the middle isn't where Doctor Who books should be.
Great imagination and fantastic excitement!
The author is really cool!
| | | |
| --- | --- | --- |
| | | |
| | one of the best doctor who books ever! | |
| | | |
By:
Matthew, leeds
Date:
Friday 22 August 2008
Rating:
9
brilliant! The main plot is brilliant, the character of cap jack is (i think) explored really well and with the surprising twists and turns i cant give it below a 9. All doctor who fans must read!
| | | |
| --- | --- | --- |
| | | |
| | Thought-provoking, a nice change | |
| | | |
By:
Tim, Australia
Date:
Sunday 24 January 2010
Rating:
8
The story is essentially a cleverly disguised thought experiment wherein we get a glimpse of the inherent benefits and defecits of a society than bans falsehood, embellishment, exaggeration, lying and even fictional storytelling.

The question being, that whatever the pros and cons are: When lying is illegal and anything that cannot be proved is essentially the same as a lie, when is the truth not the truth? When fiction is a public menace maybe the only greater dangers than purposeful deceit is truth KNOWN to be fiction and fiction KNOWN to be truth.

The plot was outlandish but seemed to go well with the setting, the Doctor, Rose and Jack were well characterised with some great writing and while the ending was strange a little lacklustre it was probably the right one, for the best effect.