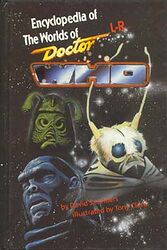 Note: Follows the previous volumes A-D and E-K. Due to poor sales, a paperback version of this book was not published, and the planned fourth volume in the series (S-Z) was cancelled altogether.
Cover blurb:
Which old foes did the Doctor encounter on the planet Peladon?
What is Romana's full name?
How did the Master survive the cessation of his regeneration cycle?
Take one step nearer complete knowledge with the third volume of the Encyclopedia of the Worlds of Doctor Who...