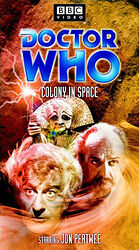 Note: This title is only available separately in the US. In the UK & Australia it was released as part of the Master box set in 2001.
Cover blurb:
The Time Lords discover that the Master has stolen secret files revealing the location of the dreaded Doomsday Weapon. They summon the Doctor out of his exile on Earth and send him five centuries into the future to the planet Uxarieus to retrieve and safeguard this vital information.
Arriving on Uxarieus, the Doctor and Jo encounter a group of Earth colonists whose very existence is under threat due to falling crops and low morale. Representatives of the ruthless Interplanetary Mining Corporation are disputing the colonists' claim to the planet.
Their only hope is placed on the imminent arrival of an Adjudicator from Earth to resolve the dispute. Meanwhile, the Doctor pursues his mission, but first he must deal with giant lizards, killer robots, and deadly primitive tribesmen — knowing all the while that the Master cannot be far away.