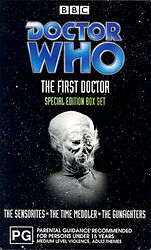 Edition:
Australia (VHS)
Released:
December 2002

Publisher:
BBC Video
Format:
3 x VHS PAL
Owned:
Buy:
Cover blurb:
No blurb on the box set itself. Cover blurbs for the three individual tapes are as follows:
The Sensorites:
The TARDIS crew arrive on a seemingly deserted spaceship, only to find what appears to be the dead bodies of the ship's original crew. But the crewmembers are far from dead — instead they are under some form of mental attack that keeps them prisoners in space...
The ship is trapped in orbit around the Sense-Sphere, home world of the alien Sensorites. The Doctor, Ian, Barbara and Susan are warned to leave, but before they can do so, the TARDIS is attacked, and its lock is stolen.
The Sensorites are using their telepathic powers against the human visitors to their world. And the TARDIS crew now find themselves helpless captives of the Sensorites, and their mental powers...
This story was first broadcast on the UK on BBC1 between 20 June and 1 August 1964.
The Time Meddler:
The TARDIS crew lands on a beach in England. The Doctor, Vicki and new companion Steven discover a Viking helmet, and deduce that they have arrived in the past. Whilst Steven and Vicki scale the cliffs, the Doctor opts for a more gentle path...
In the woods above the cliffs, Steven and Vicki find an abandoned modern wristwatch. The Doctor investigates a nearby monastery, only to discover more anachronisms...
As the local villages are attacked by invading Vikings, the Doctor realises that they are a few weeks away from the famous battle of Hastings in 1066. Who is the Meddling Monk, and what is his interest in the time travellers?
This story was first broadcast in the UK on BBC1 between 3 and 24 July 1965.
The Gunfighters:
The TARDIS arrives in Tombstone, Arizona in 1881. The Doctor, suffering from a toothache, seeks out the local dentist — the notorious Doc Holliday. Meanwhile, Steven and Dodo decide to explore the town, and soon find themselves in the Last Chance Saloon...
Tensions are running high between the feuding Clanton family and Doc Holliday, whild the local lawman, Wyatt Earp, struggles to keep the peace. When legendary gunman Johnny Ringo comes to town, events start to escalate...
Can the Doctor, Steven and Dodo do anything to stop the situation getting any worse? Or will there be a gunfight at the OK Corral?
This story was first broadcast in the UK on BBC1 between 30 April and 21 May 1966.