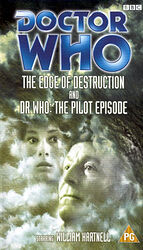 Edition:
UK (VHS)
Released:
May 2000

Publisher:
BBC Video
Format:
1 x VHS PAL
Owned:
Buy:
Cover blurb:
After their initial skirmish with the Daleks, the TARDIS crew hurriedly leave the planet Skaro in an attempt to return to contemporary England, home to the schoolteachers Ian and Barbara. However, an explosion renders both of them, plus the mysterious Doctor and his granddaughter Susan, unconscious — and when they awake, all four sense that something is very wrong indeed.
Aggression, paranoia and a feeling of despair have gripped them all — no one trusts the other and, bit by bit, the Doctor's trusted Ship seems to be breaking down around them. But is it? Has the TARDIS finally tired of its inhabitants, or is there a more logical, more rational explanation for everyone's behaviour and the Ship's bizarre course of action?
Also included on this tape is the pilot of An Unearthly Child, which preceded the version that was originally transmitted on 23rd November 1963. This was the very first Doctor Who episode ever and was recorded some weeks earlier. As a pilot episode, it was created to impress the BBC hierarchy into going ahead with the series. In many ways, it is similar to the version transmitted, but there are also some small but fascinating differences, highlighted in all the different "takes" all included on this special tape.
Originally transmitted 8-15 February 1964