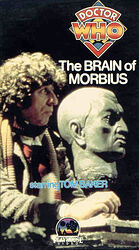 Edition:
US (edited VHS)
Released:
July 1987

Publisher:
Playhouse Video
Format:
1 x VHS NTSC
Owned:
Buy:
Note: Heavily edited version (60 minutes).
Cover blurb:
Doctor Who uses his head to keep a monster from coming back to life!
Brace yourself for another voyage with Doctor Who, the internationally renowned science fiction hero who's one of television's most popular characters. A Time Lord from the world of Gallifrey, the Doctor travels through time and space in his craft, the Tardis, which happens to bear an uncanny resemblance to a police call booth. Capable of taking on a new form when necessary, he has had five different bodies, each played by a different actor.
In this chapter, Doctor Who (Tom Baker) and Sarah (Elisabeth Sladen) land on the barren planet of Karn, where they're warmly greeted by Professor Solon. Then they discover that Solon has regenerated the body of Morbius, the most sinister criminal in the universe. All that's lacking is a head, and now Solon decides the Doctor's will do perfectly!
Can Doctor Who defeat Solon and keep the unspeakable evil of Morbius from coming to life, or will this monster once more be unleased [sic] to wreak havoc upon the galaxy?