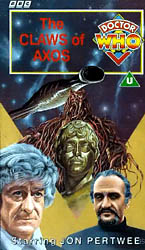 Edition:
UK (VHS)
Released:
May 1992

Publisher:
BBC Video
Format:
1 x VHS PAL
Owned:
Buy:
Cover blurb:
"Axonite will soon spread across the planet... The Nutrition Cycle will begin..."
A mysterious UFO lands on Earth. The Axons have arrived, desperate for help and eager to offer in return an exciting gift — axonite, potentially the most powerful substance man has ever seen. With its powers of duplication, the possibilities for mankind are endless. The Ministry of Defence is delighted but the Doctor has his suspicions. Are the Axons as genuine as they seem? Just what is the Doctor's arch enemy, the Master, doing aboard this ship?
Originally transmitted 13 March - 3 April 1971, this four part adventure, starring Jon Pertwee as the Doctor, is as exciting as ever on video.
Episodes 2 & 3 of THE CLAWS OF AXOS were lost from the BBC Archives and have been brought to BBC Video by means of re-claimed Canadian material. Occasionally the pictures and sound may be of a less than ideal quality — please do not adjust your set.