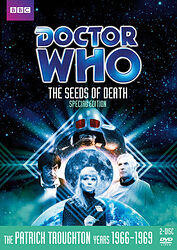 Edition:
US (special DVD)
Title:
The Seeds of Death: Special Edition
Released:
June 2012

Publisher:
BBC Video
Format:
2 x DVD
Owned:
Buy:

| | | |
| --- | --- | --- |
| | | (Unable to fetch price) |
Note: This is the same special edition (i.e. remastered and with additional extras) that was released in the UK and Australia in 2011 as part of the Revisitations 2 box set.
Cover blurb:
By the late 21st century, mankind has become totally dependent on T-Mat to transport people, food and medicines around the world. When the system breaks down, Earth is soon crippled by global shortages. Traveling to the relay station on the Moon, the Doctor and his companions discover the horrific truth: the Ice Warriors have hijacked T-Mat, and intend to claim the planet for themselves.
Can the Doctor defeat the Martians before Earth is smothered in deadly fungus, and the human race is condemned to extinction?
DVD EXTRAS INCLUDE:
Audio Commentary with actors Frazer Hines (Jamie), Wendy Padbury (Zoe), director Michael Ferguson and script editor Terrance Dicks
Lords of the Red Planet History of the Ice Warriors, with Wendy Padbury, Frazer Hines, Michael Ferguson, Terrance Dicks, costume designer Bobi Bartlett and TV historian Richard Bignell (28 mins)
Sssowing the Ssseedsss Behind the scenes with Ice Warrior Sonny Caldinez, Ice Lord Alan Bennion and makeup designer Sylvia James (24 mins)
Monster Masterclass Michael Ferguson interview (3 mins)
Monsters Who Came Back For More! With Nicholas Briggs and Peter Ware (16 mins)
TARDIS-Cam No. 6 (1 min)
Photo Gallery (4 mins)
PDF materials: Radio Times Listings
Production Notes Subtitle Option
Digitally remastered picture and sound quality
Originally transmitted January 25 - March 1, 1969