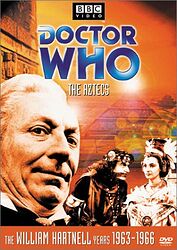 Edition:
US (standard DVD)
Released:
March 2003

Publisher:
BBC Video
Format:
1 x DVD
Owned:
Buy:
Note: Contains an extra not present on the UK or Australian releases — "Who's Who", which consists of short text biographies of the main cast.
Cover blurb:
"You can't rewrite history, not one line."
In the earliest surviving of Doctor Who's historical adventures, the TARDIS materializes in an ancient Aztec tomb. The Doctor and companions Ian, Barbara and Susan find much to admire in the Aztec civilization.
However, Barbara has been mistaken for the reincarnation of the Aztecs' High Priest, Yetaxa. The time travelers soon find themselves caught up in a vicious power struggle that could cost them their lives, especially if Barbara continues to wield her influence in an effort to divert the course of history.
DVD EXTRAS INCLUDE:
Commentary by producer Verity Lambert and actors William Russell and Carole Ann Ford
Retrospective featurettes: Remembering the Aztecs and Designing the Aztecs
Archival featurettes The Story of Cortez and Montezuma and Restoring the Aztecs
Animated featurette Making Cocoa
Photo Gallery
Production Note Option
TARDIS-Cam No. 3
Arabic soundtrack option on Episode 4
Who's Who