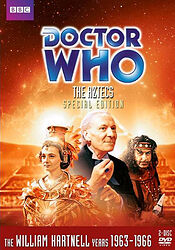 There are 3 reviews so far. To add a review of your own for this item, visit the voting page.
By:
Dan, Feltham
Date:
Tuesday 22 April 2008
Rating:
8
This story is very good as the plot is very well written and gives you a good insight into what happened in the time of the Aztecs.
| | | |
| --- | --- | --- |
| | | |
| | Excellent piece of storytelling | |
| | | |
By:
Matthew David Rabjohns, Bridgend, United Kingdom
Date:
Tuesday 21 September 2010
Rating:
10
Why so many feel that the historical stories arent all that good is a notion i will never get to grips with. There are so many inhuman periods in our own past to write about without the alien threats from outer space all over the universe.

The Aztecs represents historical Doctor Who at its height. Following after the brilliant Marco Polo earlier in the season, this is a memorable third look into a part of Earth's history. The sets for a start are again very very good. It doesnt look like the cheap tacky stuff that frequently gets shown on Doctor Who.

And all the cast are perfect here. There isnt one character who is boring or even particularly sidelined. But who really shines here is Jacqueline Hill. This is her story really. A story of her moral struggle set against the Doctors firm notion that one cant interfere with time (even though he does it more than anyone!) The tension, like the Edge of Destruction between her and the Doctor, is palpable and effective. That is the thing with Doctor Who: most of the laughs were had in the rehearsals, and then when it came for the recording, it was treated with absolute conviction and zeal by all involved.

And another wonderful element is the obvious chemistry between the Doctor and Cameca. His accidental proposal is very nicely handled, and is rather charming. And its good to see Carole Ann Ford being a bit more gutsy than usual within this story, refusing to marry the man chosen for her.

This is good in the fact that it keeps to telling a brilliant story with well rounded characters who pull you into the story. And that it presents history as not being funny or forgettable or something to lightly pass over. History will always be important. This is one of the best earlier Doctor Whos. The new series could learn much from stories like these.
By:
Trevor Smith, Nottingham, United Kingdom
Date:
Thursday 11 April 2013
Rating:
9
One of the best 1st Doctor story's gets the SE treatment.
Your probably familiar with the story so I won't bother with that apart from to say its very good with some wonderful acting.
Once again the RT have done wonders with the sound & picture quality making it look much brighter and revealing much more detail.
The highlight of the extras is of course seeing Airlock, episode 2 of Galaxy 4, and what a treat it is.
It's encased in a cut down reconstruction of the entire story, including the previously seen 6 minute segment. It's a real treat. The chumblies are very impressive as is the Rill space ship and we finally see a Rill ! William Hartnell is very lively and animated in this story.
There's also a new documentary on Dr Who toys that's very entertaining.
Highly reccomended